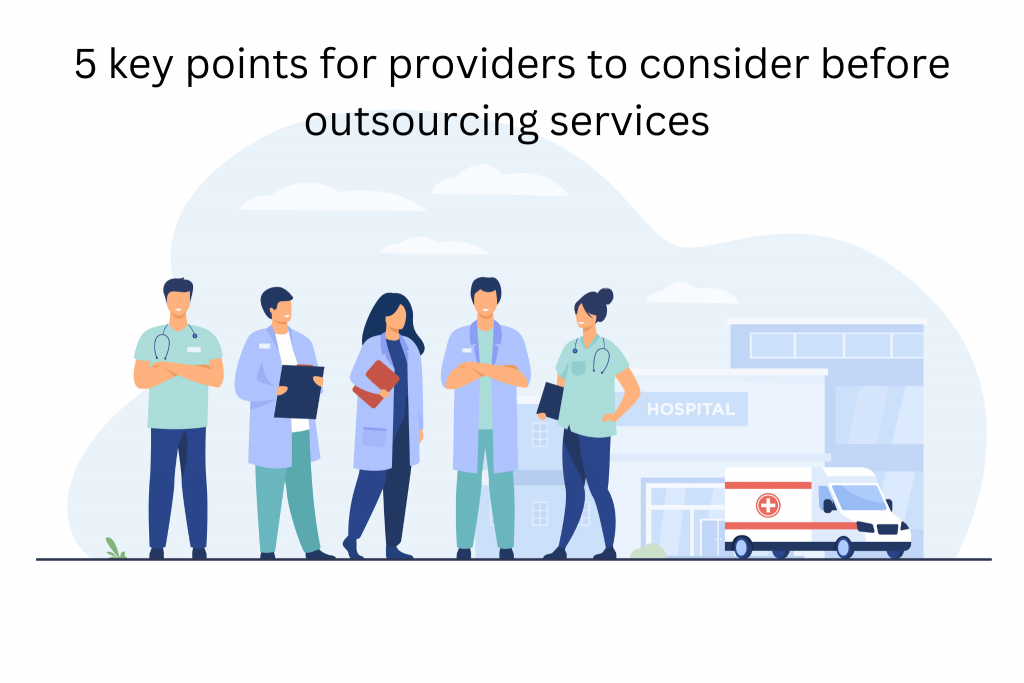 Being a healthcare provider or a practitioner, you might often find yourself in a place where you're just wearing too many hats. Managing administration, financing, in-house billing which is a series of tasks in itself, makes practice less focused. This gets healthcare providers and laboratory owners wondering whether they should outsource their services to a third-party company. 
The benefits of outsourcing billing are undeniably favorable. However, there are still some considerations to weigh before outsourcing your various services to a company. Below we will discuss factors such as cost, quality, and turnaround time. We will also provide some tips on how to choose the right company for your practice.
Consider these key points before services to a third-party company
There are a number of key points to consider before outsourcing services to another company. Perhaps the most important point is to make sure that the company you choose is reputable and has a good track record. You'll also want to make sure that the company is able to provide you with the level of service you need and that they are compatible with your current system. Other important considerations include the cost of services and the company's policies on things like data security and confidentiality. Also, staying on top of the most important healthcare KPIs is important aspect to run a successful business, where a third-party can help significantly. 
Here is a detailed layout of the points that you should consider before outsourcing:
Cost:
Outsourcing any function of a company organization should have a clear cost advantage. However, you need to take into account total cost, which would take into account things like labor, benefits, taxes, office rent and utilities, technology, training, postage, clearinghouse fees, and supplies. The office manager should be able to easily and accurately compute the entire cost per claim, as well as how many claims are created monthly, quarterly, and annually.
Full-time Staff:
Staff members assigned to handle your account should be full-time employees of the billing company. As a result, you will have a support group that is fully conversant with the accounts of your patients. To enable effective communication between the office and the outside, there should be one key point of contact for your staff. A family's billing firm should be a full-time enterprise rather than a sporadic secondary source of income.
Active Collection Action:
In order to handle any issues and guarantee that your cash is flowing, a billing business should be actively working on your accounts receivable. They should incorporate an ongoing evaluation of unpaid accounts into their regular job procedures. And any problems that prevent you from collecting on claims should be regularly reported to your office.
One price for full service:
A billing business ought to offer you all the services required to assist your practice increase collections. There shouldn't be any unexpected extra costs after you've chosen to outsource, ensuring that the practice's complete billing process is correctly managed. The service should include credentialing, patient billing, and answering inquiries from the public.
Diverse clientele:
A billing firm should have knowledge of a variety of provider specialties. The abilities needed to submit a claim are often consistent across specialties, and having a diverse clientele shows that you are aware of the complete lab revenue cycle.
Let's say you have run a pathology lab but are struggling with managing billing, outsourcing to a company that already have proven experience in pathology medical billing services is a good choice.
Using a reputable company to handle your billing needs has several advantages. Be sure to take into account all of the variables before you take the risk. Ensure your office procedures are compatible with the data required by a third party for a claim submission.
Why is In-house medical billing a challenge?
There are a number of reasons why in-house medical billing can be a challenge. First, it can be difficult to keep up with the constantly changing insurance reimbursement rates. In addition, medical billing may not be handled correctly due to a lack of staff with the necessary training and experience. Moreover, the cost of in-house medical billing may be higher than outsourcing to a third-party provider.
We're your go-to for medical billing. Why?
There are many reasons to consider Laboratory Billings as your go-to lab medical billing company. Here are just a few of the reasons why we are the best choice for your billing needs:
We have a proven track record of success. We have been in business for over 10 years and have processed millions of dollars in medical claims.

We are experts in laboratory billing. We understand the unique billing requirements of laboratories and can maximize your reimbursement while minimizing your claim denial risk.

We offer a full suite of  services, including claims processing, medical ar recovery services, collections, denials management, and financial reporting. This allows you to outsource all of your medical billing needs to us, freeing up your time to focus on patient care.

We use the latest technology and software to streamline our processes and provide our clients with real-time access to their account information.

We offer competitive pricing and customizable payment plans that fit your budget.

Our team is comprised of experienced professionals who are dedicated to providing excellent customer service.

We are accredited by the Healthcare Billing & Management Association (HBMA) and participate in their Medical Billing Code of Ethics program.
Outsource your billing to Laboratory Billings and make your practice more efficient and your business more successful. Schedule a demo today!